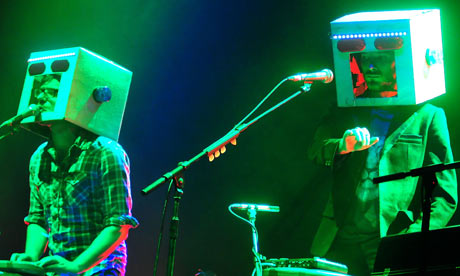 In their eponymous TV show, New Zealand folk duo Flight Of The Conchords are a pair of woefully unsuccessful musicians bumming around New York playing gigs in lifts and trade conventions. In reality their UK tour sold out in seconds, has been upgraded to stadium level and the rapturous applause the pair receive on arrival to the stage tonight is one normally reserved for heroes.

This disparity seems fitting as it is juxtaposition that lies at the heart of The Conchords music and comedy. Whether it is is their gangster rap songs about having hurt feelings or sexed up funk tracks dealing with their inadequacies between the sheets Bret and Jemaine take the expected norms of a musical genre and reverse it in a self depreciating manner.

The bands low key, lo-fi approach to comedy transfers to their stage show too. Eschewing any temptations to make a big Hollywood version of the TV show, Flight of the Conchords live is merely Bret and Jemaine sitting on stools, playing their guitars and chatting. There are occasional nods to ostentation such as bringing on New Zealand's entire symphony orchestra (one cello player named Nigel) and the cardboard helmets used on robot electro anthem 'Too Many Dicks (On The Dancefloor)'.

Fan favourites such as 'Bowie In Space' and the Pet Shop Boys spoof 'Inner City Pressure' are raced through much to the delight of the sold out crowd including famous faces such as Jonathan Ross and Richard Curtis. Inevitably some songs do not get an airing to the disappointment of the crowd, most notably 'Business Time', however it would be churlish to wait nearly three years for this tour and then quibble over the set list.

With hilarious between song chat ("This isn't talking like you do, it's more professional" says Brett "Plus, we get paid.") and songs packed with more melody and charm than many of their 'proper' musical contemporaries Flight Of The Conchords live is everything you would hope it to be and more. With more than a suspicion that we will never see them in this guise again, certainly not live on a UK stage, every second of the show is drunk up by the crowd and as the pair finish the show in audience members laps during a riotous 'Sugalumps' you can't help feeling that this is not just one of the comedy events of the year but one of the musical highlights too.