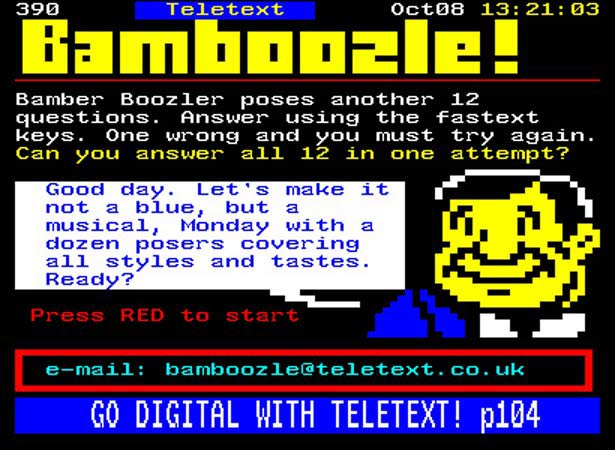 Today, bleary eyes squinted at crude images crafted out of large primary-coloured pixels for the last time, as Teletext stopped functioning in the UK. If, like me, you had a special affection for the service's music magazine, Planet Sound, you'll probably shed a blocky tear of sadness.
In a world caught between lusting after the latest media technology and reviving retro mediums like the fanzine, Teletext and Planet Sound stood in a no-man's land between the past and the present. But because it was such a unique medium, standing apart from the competition, Planet Sound (formerly called – wait for it – Blue Suede Views) grew to become a lovingly independent source of new music, reviews and interviews.
Established in 1997 and edited by John Earls since 2001, the hallowed digital pages of P:S gave early demo reviews to bands such as Maximo Park, the Twilight Sad and Hope of the States and won a devoted army of fans in the process. In a parting message, Manic Street Preachers' Nicky Wire paid tribute to Planet Sound by saying: "I love the feel of books and records, and I loved the feel of the remote control to give me information." Elsewhere, the Beautiful South's Paul Heaton voiced his support: "I refuse to accept that Teletext won't be with us any more. I'm going to carry on pressing the text button on my TV, like a dog who can't understand that his owner's dead."
Whilst it's easy to get dewy eyed about the loss of another music publication, in this case we are losing a true one-off. Future generations will surely find the very concept of Teletext baffling. Today's music news, after all, is distributed by a horde of anonymous bloggers whereas Planet Sound represented something altogether more cosy, a warm haven of musical discussion and recommendation. The sense of community amongst those who wrote in (affectionately known as Voiders, after the letters page the Void) is often lacking in the cutthroat commenting world that's developed since. So raise a glass to Planet Sound. I, for one, will always have a special place in my heart for it, accessible only by keying in the digits "3", "4" and "0".